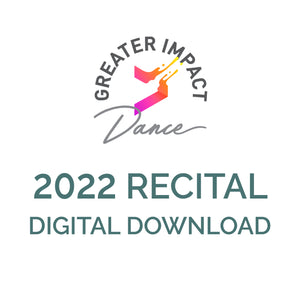 The Greater Impact 2022 Recital is now available for purchase as a Digital Download
Skip the shipping & the disc –– save the memories! Go digital and you will receive an HD MP4 copy of the production to download and play on your personal devices. You'll receive an email from us when your file is ready (usually 2-6 weeks post-event).
Product Selections:
2022 Recital will include dances from both the 1PM and 4PM shows on June 11th.
2022 Company Showcase will include only the recording of the June 11, 7PM Showcase.
If you would like to purchase a copy of each, use code GREATER22 for an exclusive bundle discount.

DISCLAIMER:
Digital downloads of copyrighted productions are protected under strict copyright law. By purchasing a digital copy of the show, you agree not to alter, share, or republish the content without explicit written permission of the copyright holders.