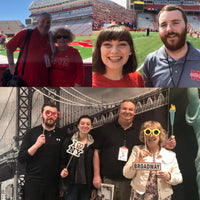 Mid-America Video Images + JCB Creative: Our Stories
Dan and Colleen Ehly of Mid-America Video Images have been providing live event coverage and video production services in Lincoln, NE and surrounding areas for nearly 30 years. In fact, if you've attended a home Husker game, dance recital, school musical, show choir competition, or band exhibition in the Southeast Nebraska area, you've probably crossed paths with these two and their team members before!
We are two of those team members –– Atira and Josh. We've been working with the Ehlys for several years, starting back when we were in high school at Lincoln Southwest. We officially joined their crew after graduation and have been onsite for nearly every event in the years since. Outside of our work directly with Mid-America, we've been running our own creative services business, JCB Creative, since 2014.
Same Team, Same Service, New Name
Although they love the work they do for our community, Dan and Colleen have been looking forward to retirement for a few years, and began having those conversations with us in 2019. They were excited about the idea that we could continue the Mid-America Video legacy through JCB Creative when they decided to transition into retirement –– we just weren't sure when that time would come.
March 2020 answered that question for us. The pandemic put a halt on almost every scheduled event, so it felt as if the decision to retire was made for them –– and they embraced that.
While the Ehlys will continue their work with the Cornhusker Marching band, they are otherwise retired from the video business. Today, Dan and Colleen enjoy the additional time to complete projects around the house, spend time with their grandchildren, and just relax! We hope you will join us in congratulating the Ehlys on their retirement –– and trust us to continue providing you the quality services you've always received in the past.
Nice to meet you & we look forward to working with you!
–– Josh & Atira